MIND HERO
YOUR MINDFUL COMPANION
Natural guided relaxations to help overcome stress, unwind, decompress, find inner peace, energize and find mindfulness in difficult situations.
Our unique recordings are designed to work for anybody who needs to calm down and improve their quality of life. Adults, children, infants, and even pets… as long as one is able to perceive the voice one will benefit.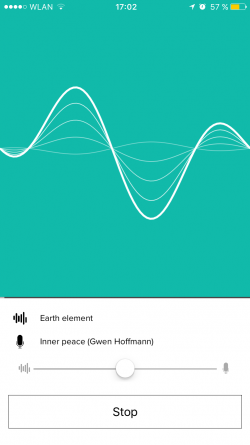 NATURAL GUIDED RELAXATIONS
Our relaxations are simple one-off recordings. Not hypnotic, not meditative and without script, they are a natural means to calm body and mind. The voice recordings give practical guidance for relaxation to improve your energy levels and reach mindfulness. During the relaxation there is no need to concentrate or to hold any specific posture. Just being there is enough. If you have never attempted a relaxation before, you will be surprised how simple it is to benefit.
20+ AUDIO RELAXATIONS
Mind Hero provides over 20 different guided relaxations for various issues and purposes, with even more to come. They may either be applied as a quick energy boost  or as a longterm remedy to get to grips with stress related problems such as headaches, nervousness, tiredness, depression and general lack of energy and focus. Others help you prepare for a special occasion, an important meeting or to reach a specific goal.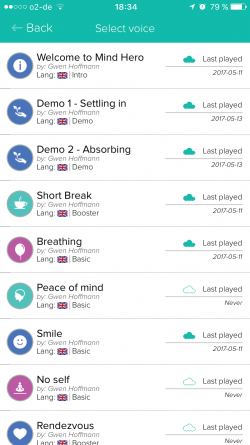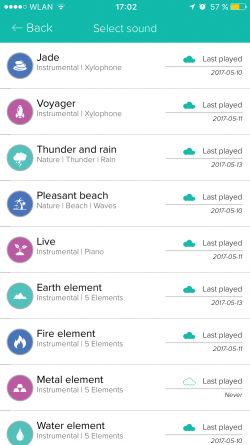 20+ BACKGROUND SOUNDS
Choose from over 20 background tracks including instrumentals, nature sounds and 5 Elements music. Each track will colour your relaxation differently giving you scope of hundreds of different experiences. However you may find your favourite combination and stick to it for a long time. Whatever you enjoy most will work best.
IMPORT YOUR OWN AUDIO FILES
If you wish to use your own collection of relaxation recordings, and to have everything in one place, you can import them onto Mind Hero via official Apple's Music app. The usage of imported recordings will also take part in your Aura Score.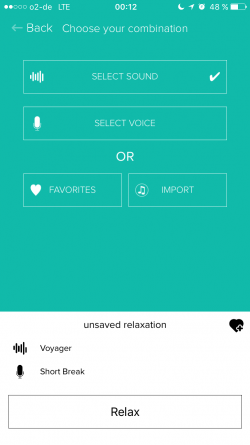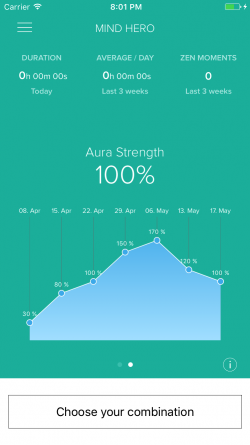 AURA SCORE - STAY MOTIVATED
Aura Score gets calculated by combining duration and quality of your relaxations using Zen Moments feature. It takes into account your activities in last 3 weeks, helping you with motivation and encouraging you to create a healthy daily habit. For an average person, we recommend a 100% Aura Score goal. Eventually, it can go up to 200%, so all those who like a good challenge, the floor is yours! Read more about Aura Score here.
ZEN MOMENTS - TRACK THOSE SPECIAL, UPLIFTING MOMENTS
After each relaxation, you have an option to rate how well you have relaxed. Track those uplifting moments of inner peace or pleasant energy flow. Zen Moments are in one way the goals of every good relaxation, but our suggestion is not to hold on to it for too long, so you can make room for new experiences and deeper levels of relaxation. Zen Moments will be calculated into your Aura Score as well, giving you additional motivation to work on them. Read more about Zen Moments here.

GWEN HOFFMANN

Co-Founder and lead expert on natural guided relaxations. An enthusiastic collector of Steiff bears.
JOHNY MIRIC

Co-Founder, CEO and numbers crunching guy. Guitar, pizza baking, and rowing enthusiast.
FIONA MCLOUGHLIN

Editor in chief. Clothes and lifestyle designer, mindfulness expert and global gypsy.
PAVEL KRASNOBROVKIN

Lead iOS developer. In free time enjoys traveling and parachute jumping
.