New Relaxed Style – The oceen Player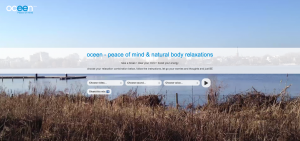 Welcome to the future of meditation
On behalf of the team at oceen I am super happy to introduce our new format, the oceen player.  We have all spent a long while researching what we like when we relax and how to make it fresh every day. As we are all professional life consultants, we have collected experience with what works for our clients, what gets results and most importantly, what is fun and simple to use.
Meditation along with Yoga is a hot topic and is getting scientifically proven results, so it's high time for everyone to make it part of their day in the same way that we shower, workout, eat well and clean our teeth. With more and more people jumping on the bandwagon, celebrities use it to look good, creatives get new ideas, entertainers and sports people to perform well and business whizzes to keep on top of their game, there has got to be something to it, everyone is looking for a quick fix with a spiritual kick these days. 
What evolved from all our research was that most of us want to have control of our experience and for it to be creative, address the specific problem we are having and get a solution delivered right now in real time. So we decided to let you, our visitors create the relaxation experience for yourselves.  
It is an interactive way to relax, so with the concept we have designed you get to choose the visuals from a range of environments  filmed on our travels around the globe, select the background music from our exclusive relaxation compositions and recorded texts on a variety of topics from the in-house life consultants. Just select from the drop down menu, combine it all with a quick click and voila your create your 20 minute personalised relaxation session. It is flexible and the fact that you can tailor make a session for yourself in seconds according to your requirement at that moment means you get what you want, when you need it.  
Enjoy the possibilities and make your own  customized relaxations for family, friends or anyone you know in need of a little extra help, they make a wonderful gift idea. Please let us know what sort of topics you would find helpful and they will try to include them soon?
Try it for free here: http://www.mindhero.io/