Love Rules Forever… Posh and Becks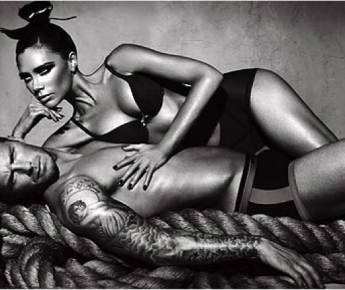 Meet the Beckham's – England's other Royal Family, together they have created the myth that is "Posh and Becks" a world famous fashion-fabulous, goal-scoring, baby-bearing couple whose celebrity lifestyles make headlines wherever they go. Victoria Beckham, aka "Posh" is an English singer-songwriter, who shot to fame with the all girl band The Spice Girls, she was Posh Spice.  David Beckham, aka "Becks", the most famous English footballer, plays for and captains major league soccer's, Los Angeles Galaxy and is also a member of the England national team.
Their meeting was supposedly manufactured by the man who created The Spice Girls. The Pop guru Simon Fuller had seen great potential in the "Posh" one of his chart-topping band and told her:
 "I see you with someone famous. What you need is a footballer."
Some critics said the wedding on July 4 1999 appeared tasteless and fake but others insist the couple radiated a special chemistry, whatever it is they make a great team.
David said: "I knew I wanted to marry her, have children, be together always. I could have told her on that first date as we drove round the M25 in her MG. I was that sure that quickly."
"As soon as I met David I thought, 'I want to marry this person, grow old with this person, learn things about life with this person, have a family,' " said Victoria.
When two young people meet and feel this kind of immediate love and the chemistry between them is strong it may well be that they were destined to find each other. No matter how apparently arranged the circumstances of the meeting. If destiny played apart in this union it still requires wisdom and sheer hard work to keep it together.
She says: "When I was with the Spice Girls, I was never the favourite.  I was always the one in the background. But then when I met David and fell in love with David it was as if the chemistry of us together did something nobody expected. It was like a snowball, it got bigger and bigger and bigger until really it was out of control."
She is obviously very supported by his energy and has become far more famous and successful with him as a partner than she was in her days as a singer. This is not the case for all partnerships and it is essential to be aware of how ones partner's energy will affect our lives and career.  Some partnerships can unfortunately be very damaging.
A large part of Beckham's appeal can be traced to his non-conformity…. He's straight, but adored by gay men, a fan of body-waxing and androgynous attire with a perchant for wearing nail polish. 
He's quiet with a funny, high voice and a potent combination of physical attractiveness, sex appeal, packaged in a wholesome, clean-living, devoted family man.  Whereas Victoria is the one that talks alot, is loud and forthright and wears the trousers and is determined not to be seen as just another "footballer's wife". 
Victoria said: "I know a lot of them are really nice girls but I want to be known as me."
In this way they are a very modern couple with fairly opposite ways of communicating but with the similarities in their ages, family values and the sheer drive to be successful and that forms a strong common bond.  Despite their good looks, money and success, their relationship has hit the headlines due to as the challenges of marriage, as many people,  but when its a celebrity affair with such huge icons as Posh and Becks everything is amplified by the press, so how they handle it is key.
How do they survive? The Beckham's are ordinary because they want lots more children and because they cling to their parents' values – mutual support, focus, hard work, discipline, but of course they are extraordinary, too. The evidence is in the trappings; the Ferrari, the BMWs, the Range Rover, and the watches, diamonds and designer clothes………and the fact that they are still together
Relationship Rules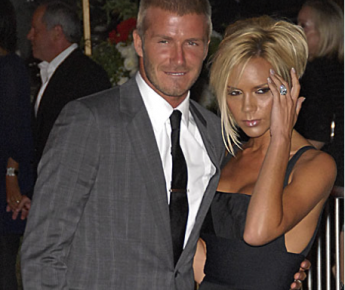 Time Out!  While Becks is away playing football, Victoria keeps herself busy juggling family life and her fashion career. They are used to spending time apart and keeping their relationship going over the telephone. Separate interests keep their love fresh and alive.
"We appreciate the time we spend together and we spend hours on the phone when we're apart," she admits
They may actually benefit from this separation, as there are times in a relationship when it's better for couples to be apart because the energy is not supporting them during that time.
Get over It Being a sex symbol, temptation's never far away  In 2004 it was rumoured that David had been involved with his personal assistant, Rebecca Loos. David denied the claims. Victoria admitted:
"It was a really tough time. We got through it together. No one said marriage was going to be easy. Yes, there have been bumps along the road, but we've come out stronger and happier."
They were obviously able to talk through their problems, learnt to understand one another, and then put it behind them.  
Family Matters They have produced a team of gorgeous sons, Brooklyn, Romeo, and Cruz, whose birth nine months after the infidelity incident prompted rumours he was a 'band-aid baby, made to keep the marriage together. Now with the recent addition of their first girl, Harper Severn and rumours that Posh is broody again, it obviously worked for them!
Having children together keeps the relationship strong and even though they have separate careers the family is their bond. They have a shared goal to develop the kids and that can give them strength in difficult times.
Respect They genuinely respect each other and constantly support each other in public too. They are each others biggest fans and express it.
"David's got a lot more personality than people think and he's very deep and spiritual," she said "I idolise him," says Victoria,
David's acceptance speech for winning the Lifetime Achievement Award at the Sports Personality of the Year Awards, he said,
 "Of course, I want to thank my wife and my children. Not only has she given me three amazing boys… she is truly an inspiration for me every single day."
Dressing Up Ten years down the line and the glamour is always cranked up to max on nights out. They are both good-looking and very fashion-aware.  They love clothes and dressing up to impress, not only the press but each other too. 
It's a sign of disrespect to your partner to let yourself go.  By taking care of themselves they show how much they respect each other and it keeps the interest alive. To constantly reinvent and always look their best, they boost their spirits and their image.
Double Act Known for their copycat clothes "his and hers" haircuts for example, is the sign of a successful relationship. They can give up their individuality and are surrendering to each others style with her sporting boyfriend jeans and him even wearing a skirt sometimes. OK it was Prada and it was a sarong!
 "We've got matching dogs, matching watches, similar wardrobes. I like that. I mean, I know it's really tacky but it makes me laugh."
"It also shows they have a rock-solid partnership – they think, feel and act the same"
Love You They will travel thousands of miles for a romantic love-in, like when David took a jet from Milan to London while his wife flew in from LA. They like to buy expensive gifts, a £1.2million necklace for her, a £300,000 car for him and he bought her a huge new ring for giving birth to their first daughter recently.
Keeping the love message going, not just with words but action too, investing time and money in the relationship they are always giving gifts which keeps the gratitude, appreciation and romance going strong.  
Beckham said:
"This is the first time I have ever been in love. I think once you meet that person that you want to spend the rest of your life with, no matter what else is going on round you, you dedicate your life to that person. You'd never hurt or destroy that relationship."
Happy Families With their crazy schedules, David and Victoria would be lost without their respective mothers-in-law, who regularly travel with the family, acting as babysitters and allowing the couple to spend time alone.  
The secret of a happy relationship is a happy family life. They very wisely make their mums feel involved and valued which gives the family its stability and vital source of support.
Keeping Face Posh and Becks have had their share of massive rows and she once admitted punching him when rumours he'd cheated came out.  However they are wise enough not to argue in public. Regardless of what problems they're having behind closed doors, they always make a show and never criticise each other. They understand that negativity just feeds more negativity and so make a huge effort to show a united front and remain in a positive public position at least.
Stay Sexy David often buys sexy underwear for Victoria and she is always out shopping for more hot numbers to keep their sex life on fire. Victoria said of David:
"He does have a huge one. It's like a tractor exhaust pipe!"
The physical relationship is a very important part so taking quality time together enjoy games and indulge fantasies can help to balance the stress and public nature of their relationship.  It is a time when the energy of the couple is shared and this strengthens their bond.
——
Sources: fabulousmag.co.uk